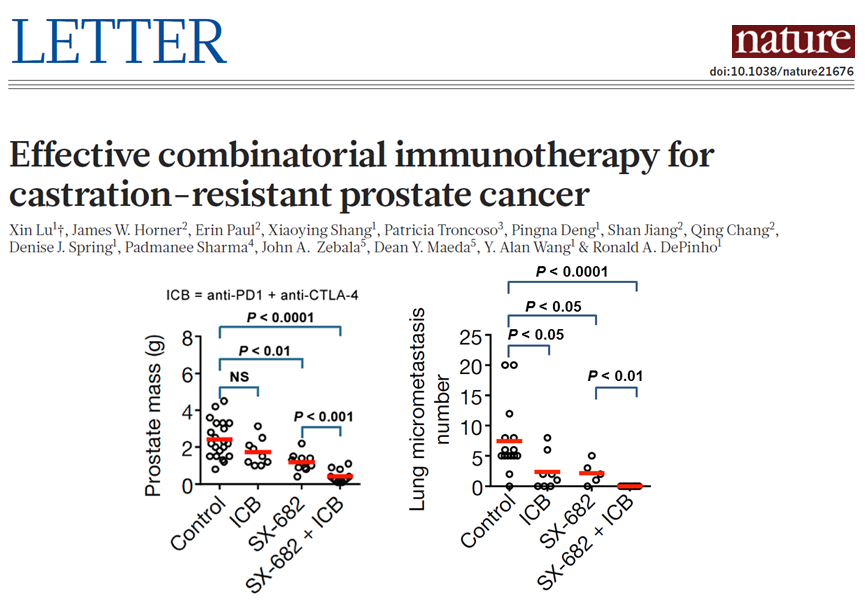 Prostate cancer, notoriously resistant to immunotherapy due to its immunologically cool nature, is made "hot" by the addition of SX-682, researchers at The University of Texas MD Anderson Cancer Center and Syntrix report in Nature.
The researchers used a mouse model of human metastatic castrate-resistant prostate cancer (mCRPC).  Mice that were engineered to develop prostate-specific deletions in the three tumor suppressor genes Pten, p53 and Smad4, spontaneously developed prostate cancer that efficiently metastasized to the lungs.  After treatment with enzalutamide (XTANDI®) for 3 weeks, primary and metastatic tumors in the animals were made castrate-resistant.
Consistent with the human disease, immune checkpoint blockade (ICB) with anti-PD1 and anti-CTLA4 immunotherapies had no effect on the mouse tumors.  However, the addition of SX-682 made previously "cold" ICB "hot", with significant reduction in the average tumor mass.  SX-682 significantly reduced tumor size even as a single agent.  Remarkably, the combined effect of ICB with SX-682 completely eliminated lung metastasis.
John Zebala, M.D., Ph.D., CEO of Syntrix, said that "We've known that prostate cancer is immunologically cold, or quiet, with very little penetration of the tumors or their surrounding microenvironment by immune cells.  These results with SX-682 show that blockade of CXCR1/2 reverses this cold, or quiet state, and makes tumors vulnerable to attack by the patient's own immune system.  It's exciting data that provide a clear rationale for a clinical trial of SX-682 with anti-PD1 and/or anti-CTLA4 immunotherapies."
ABOUT SX-682: SX-682 is a clinical-stage oral allosteric small-molecule inhibitor of CXCR1 and CXCR2 (CXCR1/2). Inhibiting both human isoforms is believed essential. CXCR1/2 are a combined "master switch" of the tumor microenvironment, where they control tumor cell metastasis, the epithelial to mesenchymal transition, the influx of immunosuppressive MDSCs and neutrophils and angiogenesis. Clinical studies in melanoma, breast, ovarian, prostate and colon cancer have shown a direct correlation between serum levels of CXCR1/2 ligands and disease progression. SX-682 has been validated in all major solid tumor models, where it exhibits mono-agent anti-tumor activity, blocks metastasis, depletes immunosuppressive myeloid cells, activates tumor killing by effector cells, reverses chemo-resistance, and potently synergizes with anti-CTLA-4 and anti-PD1.
ABOUT SYNTRIX: Syntrix is a pharmaceutical company committed to discovering and delivering innovative therapies by doing things differently.  We innovate in discovery and clinical trials, engineer risk prospectively, integrate IP strategy creatively, and leverage non-dilutive capital to solve the most difficult clinical problems. Convergent Science & Strategy. Breakthrough Medicines.
DISCLOSURE NOTICE: This release contains forward-looking information that are based on company management's current beliefs and expectations and are subject to currently unknown information, risks and circumstances and actual results may vary from what is being currently projected.  In addition, from time to time, Syntrix or its representatives have made or may make forward-looking statements, orally or in writing. Forward-looking statements can be identified by the use of forward-looking words such as "believe," "expect," "intend," "plan," "may," "should", "could" or "anticipate" or their negatives or other variations of these words or other comparable words or by the fact that these statements do not relate strictly to historical or current matters. Forward-looking statements relate to anticipated or expected events, activities, trends or results as of the date they are made. Because forward-looking statements relate to matters that have not yet occurred, these statements are inherently subject to risks and uncertainties that could cause Syntrix's actual results to differ materially from any future results expressed or implied by the forward-looking statements. Many factors could cause Syntrix's actual activities or results to differ materially from the activities and results anticipated in such forward-looking statements.  Syntrix does not undertake any obligation to publicly update these forward-looking statements, whether as a result of new information, future events or otherwise.
Media Contact: Aaron Schuler, PhD, 253-833-8009, x21