Researchers at the Fred Hutchinson Cancer Research Center and the National Institutes of Health (NIH) independently showed SX-682 eradicates pivotal immunosuppressive cell barriers in solid tumors to enhance checkpoint inhibition in non-small cell lung cancer (NSCLC) and natural killer (NK) cell-based immunotherapy in head and neck squamous cell carcinoma (HNSCC), respectively.
Most patients with NSCLC fail to respond to live-saving checkpoint inhibitors like Bristol-Myers Squibb's Opdivo or Merck's Keytruda.  Published in JCI Insight and featured in Fierce Biotech, the Fred Hutch team discovered that NSCLC patients do not respond to checkpoint inhibitors because their tumors are infiltrated with neutrophils that block cancer-killing T cells from entering the tumor.  Neutrophils are a common white blood cell found in blood, and SX-682 blocks their entry into tumor.  When the Hutch team treated tumor-bearing mice with SX-682 and a checkpoint inhibitor, they observed relocation of cancer-killing T cells into the tumor and enhanced tumor eradication.
Some cancers are insensitive to detection or elimination by T cells, even in the presence of checkpoint blockade, but may retain the ability to be detected by NK cells.  NK cell-based therapy is therefore a promising new immunotherapeutic strategy under clinical investigation. However, even NK cell-based immunotherapy may be blocked by the presence of immunosuppressive tumor cells present in many solid tumor types.
Published only two days earlier in the journal of Clinical Cancer Research, researchers at the NIH reported that patients and mice with HNSCC harbor significant levels of circulating and tumor-infiltrating myeloid-derived suppressor cells (MDSCs), which like the tumor-associated neutrophils reported by the Hutch team, are another key immunosuppressive cell in tumors.  The NIH team discovered that MDSCs from patients and mice suppress NK cell anti-tumor function, and that SX-682 significantly eliminated tumor MDSC accumulation and enhanced the tumor infiltration, activation and therapeutic efficacy of adoptively transferred murine NK cells.  The results arose from a Cooperative Research and Development Agreement (CRADA) between Syntrix and NIH.
"These reports join a large and compelling body of published evidence demonstrating that the immunosuppressive myeloid barrier plays a pivotal role in promoting tumor growth and preventing the efficacy of a wide range of immuno-oncology therapies that leave this barrier intact," said John A. Zebala, MD, PhD, co-author to each study and Syntrix president.  "SX-682 eliminates these key immunosuppressive cells in the tumor microenvironment and promises to become a backbone to immuno-therapy in substantially all tumor types," said Zebala.
ABOUT SX-682: SX-682 is a clinical-stage oral allosteric small-molecule inhibitor of CXCR1 and CXCR2 (CXCR1/2).  CXCR1/2 are a combined "master switch" of the immunosuppressive tumor microenvironment (below).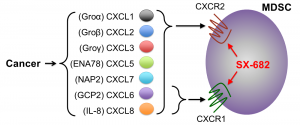 Clinical studies have shown an inverse correlation between blood CXCR1/2 ligands and checkpoint response and survival. SX-682 has been validated in major solid tumor models, where it exhibits mono-agent activity, blocks metastasis, depletes MDSCs, activates infiltration and killing by immune effector cells, reverses chemo-resistance, and enhances checkpoint blockade and cell-based immunotherapies.
ABOUT SYNTRIX: Syntrix is a pharmaceutical company committed to discovering and delivering innovative therapies to solve the most difficult clinical problems. Convergent Science & Strategy. Breakthrough Medicines.
DISCLOSURE NOTICE: This release contains forward-looking information that is based on company management's current beliefs and expectations and are subject to currently unknown information, risks and circumstances. Actual results may vary from what is projected.  Syntrix does not undertake any obligation to publicly update these forward-looking statements, whether as a result of new information, future events or otherwise.
Media Contact: Aaron Schuler, PhD, 253-833-8009, x21.