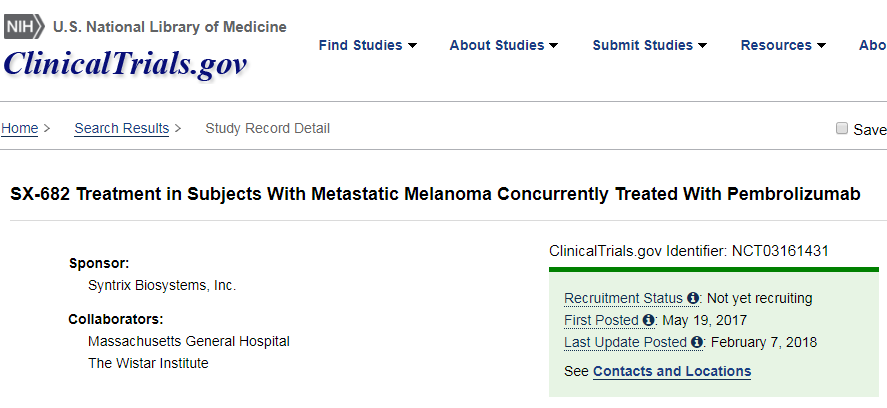 Syntrix announced today the award of a $2.3 million grant from the National Cancer Institute (NCI) of the National Institutes of Health (NIH) to perform a Phase 1/2 clinical study investigating the treatment of newly diagnosed metastatic melanoma with SX-682 in combination with the anti-PD1 agent, pembrolizumab.  In 2016, it was estimated there were 76,380 new cases of melanoma in the United States, with 10,130 deaths from the disease.  The Phase 1/2 trial will be conducted in collaboration with Dr. Keith Flaherty at the Termeer Center for Targeted Therapies at the Massachusetts General Hospital Cancer Center.
In mouse models of melanoma, SX-682 exhibited single-agent activity and potently synergized with anti-PD1 therapy.  John Zebala, M.D., Ph.D., CEO of Syntrix, said that "Metastatic melanoma exhibits the greatest response to anti-PD1 therapy of any solid tumor type, yet still only about 30% of patients initially respond to pembrolizumab and only about 10% are progression free at one year.  Our preclinical data suggest that combining SX-682 with pembrolizumab in metastatic melanoma may afford enhanced efficacy compared to pembrolizumab monotherapy. If successful, SX-682 could be a promising new addition to the treatment landscape in metastatic melanoma."
The trial is an open-label 3+3 escalation and expansion design.  Correlative studies will examine immune biomarkers in the tumor microenvironment and in the circulation.
ABOUT SX-682: SX-682 is a clinical-stage oral allosteric small-molecule inhibitor of CXCR1 and CXCR2 (CXCR1/2). Inhibiting both human isoforms is believed essential. CXCR1/2 are a combined "master switch" of the tumor microenvironment, where they control tumor cell metastasis, the epithelial to mesenchymal transition, the influx of immunosuppressive MDSCs and neutrophils and angiogenesis. Clinical studies in melanoma, breast, ovarian, prostate and colon cancer have shown a direct correlation between serum levels of CXCR1/2 ligands and disease progression. SX-682 has been validated in all major solid tumor models, where it exhibits mono-agent anti-tumor activity, blocks metastasis, depletes immunosuppressive myeloid cells, activates tumor killing by effector cells, reverses chemo-resistance, and potently synergizes with anti-CTLA-4 and anti-PD1.
ABOUT SYNTRIX: Syntrix is a pharmaceutical company committed to discovering and delivering innovative therapies by doing things differently.  We innovate in discovery and clinical trials, engineer risk prospectively, integrate IP strategy creatively, and leverage non-dilutive capital to solve the most difficult clinical problems. Convergent Science & Strategy. Breakthrough Medicines.
DISCLOSURE NOTICE: This release contains forward-looking information that are based on company management's current beliefs and expectations and are subject to currently unknown information, risks and circumstances and actual results may vary from what is being currently projected.  In addition, from time to time, Syntrix or its representatives have made or may make forward-looking statements, orally or in writing. Forward-looking statements can be identified by the use of forward-looking words such as "believe," "expect," "intend," "plan," "may," "should", "could" or "anticipate" or their negatives or other variations of these words or other comparable words or by the fact that these statements do not relate strictly to historical or current matters. Forward-looking statements relate to anticipated or expected events, activities, trends or results as of the date they are made. Because forward-looking statements relate to matters that have not yet occurred, these statements are inherently subject to risks and uncertainties that could cause Syntrix's actual results to differ materially from any future results expressed or implied by the forward-looking statements. Many factors could cause Syntrix's actual activities or results to differ materially from the activities and results anticipated in such forward-looking statements.  Syntrix does not undertake any obligation to publicly update these forward-looking statements, whether as a result of new information, future events or otherwise.
Media Contact: Aaron Schuler, PhD, 253-833-8009, x21