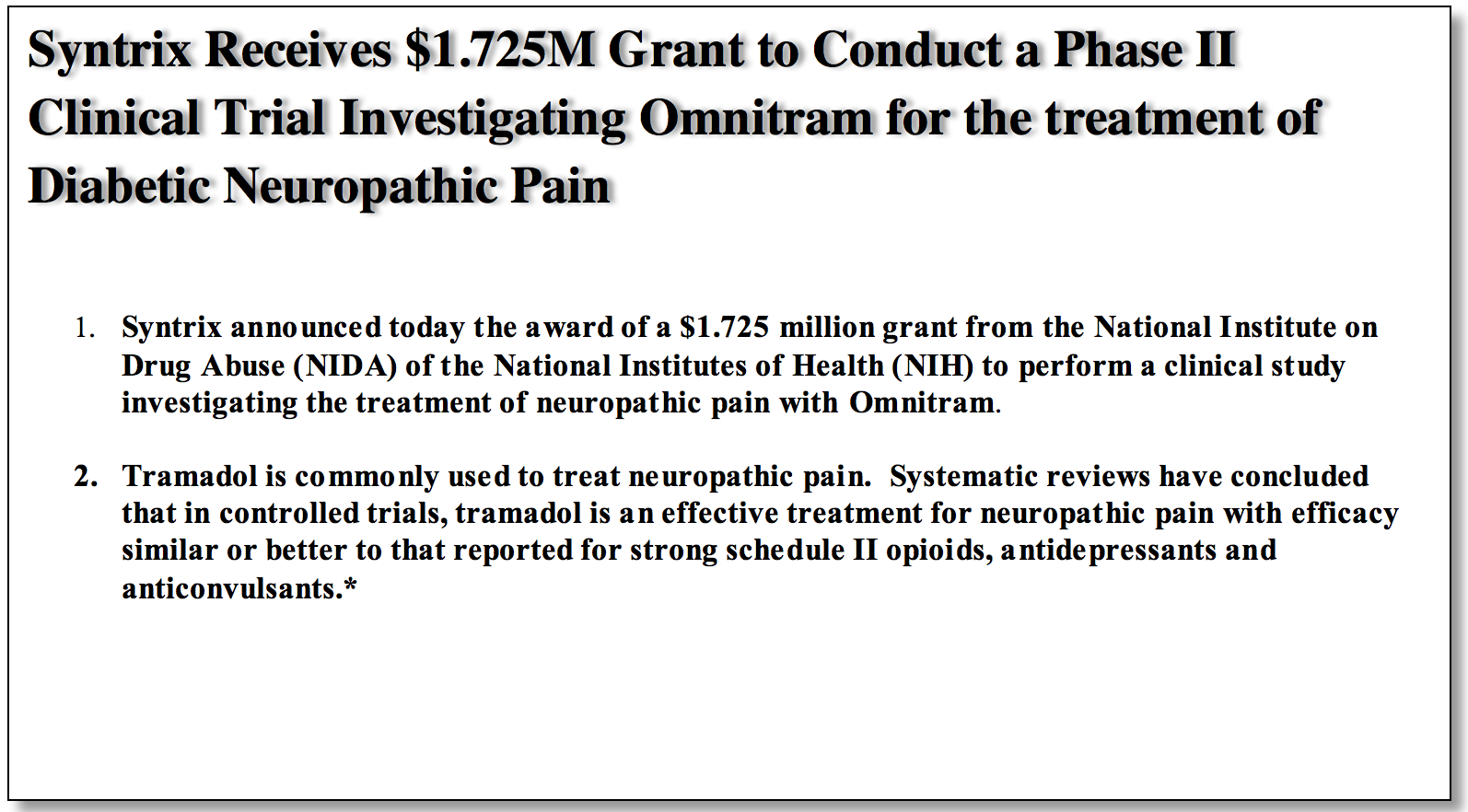 Syntrix announced today the award of a $1.725 million grant from the National Institute on Drug Abuse (NIDA) of the National Institutes of Health (NIH) to perform a clinical study investigating the treatment of neuropathic pain with Omnitram.  The project title is "Phase II clinical evaluation of Omnitram in neuropathic pain."  John Zebala, M.D., Ph.D., CEO of Syntrix, said that "Neuropathic pain is difficult to treat, and many patients have pain that is refractory to existing treatments.  The most commonly studied neuropathic pain subtypes include diabetic neuropathic pain, postherpetic neuralgia and HIV-related neuropathic pain. Collectively, these three conditions were estimated to affect over 6 million people across the seven major pharmaceutical markets of United States, Japan, France, Germany, Italy, Spain and the United Kingdom in 2010.  However, the total affected population is considerably larger owing to the number of additional neuropathic pain conditions, such as neuropathic lower back pain, cancer-related neuropathic pain, complex regional pain syndrome and postoperative neuropathic pain.  Due to the staggering human and economic costs, neuropathic pain represents a significant burden to public health."
Tramadol is commonly used to treat neuropathic pain.  Systematic reviews have concluded that in controlled trials, tramadol is an effective treatment for neuropathic pain with efficacy similar or better to that reported for strong schedule II opioids, antidepressants and anticonvulsants.*  However, because of its dependence on metabolic activation, many patients treated for neuropathic pain in everyday clinical practice fail to obtain adequate analgesia with tramadol because they are commonly co-prescribed  drugs for their pain that block the metabolic activation of tramadol (e.g., Cymbalta, an antidepressant and powerful inhibitor of the enzyme which activates tramadol) .  Omnitram is a new pain medication that reliably and consistently provides the active analgesic metabolite of tramadol (O-desmethyltramadol) to patients with neuropathic pain even when they are co-prescribed other drugs for their pain, because Omnitram does not require metabolic activation to work.  Because Omnitram provides the same net pharmacology as tramadol, Omnitram is expected to be efficacious in a larger fraction of patients with neuropathic pain treated in everyday clinical practice, where polytherapy for pain is commonplace.
*Number of patients needed to treat (NNT) for 50% pain relief were (95% confidence interval): tramadol, 4.7 (3.6-6.7); strong opioids, 4.3 (3.4-5.8); gabapentin, 7.2 (5.9-9.1); pregabalin, 7.7 (6.5-9.4); and serotonin reuptake inhibitors, 6.4 (5.2-8.4).  Finnerup, N.B., et al., Pharmacotherapy for neuropathic pain in adults: a systematic review and meta-analysis. Lancet Neurol, 2015. 14(2): p. 162-73.
Read about Omnitram in our pipeline.  www.syntrixbio.com