Researchers at the National Institutes of Health (NIH) have shown that inhibition of myeloid-derived suppressor cell (MDSC) trafficking into mouse solid tumors by SX-682 enhanced both PD-1 immune checkpoint blockade (ICB) and T cell receptor (TCR) engineered T cell immunotherapy, leading to significant tumor growth inhibition or eradication.
The research, published last week in JCI Insight, suggests a promising new approach for treating patients with solid tumors using a combination of SX-682 and multiple forms of immunotherapy including ICB and adoptive cell transfer with engineered T cells. The results arose from a Cooperative Research and Development Agreement (CRADA) between Syntrix and NIH.
"Novel engineered T cell strategies to combat cancer include adoptive cell transfer of TCR-engineered T cells and chimeric antigen receptor (CAR) T cells.  Both strategies have had limited success in solid tumors, likely because the MDSC-rich microenvironment within solid tumors acts as an immunosuppressive barrier," said John A. Zebala, MD, PhD, study co-author and Syntrix president.  "Native T cells confront the same barrier, and this could explain why most cancer patients do not respond to native T cell stimulation with ICB therapy."
Patient MDSCs express CXCR1 and CXCR2, the targets of SX-682.  Using mouse models of oral and lung cancer, the NIH team assessed whether SX-682 could block MDSC tumor recruitment and enhance T cell activation and anti-tumor immunity following multiple forms of immunotherapy.  The researchers found that neutrophilic-MDSCs (PMN-MDSCs) were the most abundant myeloid cell within the tumors and caused the greatest suppression of immune-mediated tumor killing. SX-682 increased survival by inhibiting PMN-MDSC trafficking into the tumor and enhancing the accumulation and anti-tumor activity of engineered T cells and native T cells stimulated with ICB.
"The NIH study establishes an essential role for SX-682 in relieving the immunosuppressive microenvironment that thwarts multiple forms of T cell-based therapies in solid tumors," said Zebala.
The study follows recent findings reported in the journals Nature and Cancer Cell, that showed SX-682 boosted immunotherapy effectiveness in prostate and colorectal cancers.
ABOUT SX-682: SX-682 is a clinical-stage oral allosteric small-molecule inhibitor of CXCR1 and CXCR2 (CXCR1/2).  CXCR1/2 are a combined "master switch" of the immunosuppressive tumor microenvironment (below).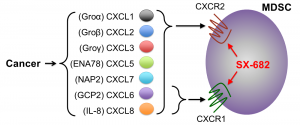 Clinical studies have shown an inverse correlation between blood CXCR1/2 ligands and ICB response and survival. SX-682 has been validated in major solid tumor models, where it exhibits mono-agent activity, blocks metastasis, depletes MDSCs, activates infiltration and killing by immune effector cells, reverses chemo-resistance, and enhances ICB
ABOUT SYNTRIX: Syntrix is a pharmaceutical company committed to discovering and delivering innovative therapies to solve the most difficult clinical problems. Convergent Science & Strategy. Breakthrough Medicines.
DISCLOSURE NOTICE: This release contains forward-looking information that is based on company management's current beliefs and expectations and are subject to currently unknown information, risks and circumstances. Actual results may vary from what is projected.  Syntrix does not undertake any obligation to publicly update these forward-looking statements, whether as a result of new information, future events or otherwise.
Media Contact: Aaron Schuler, PhD, 253-833-8009, x21
The company issued a press release.